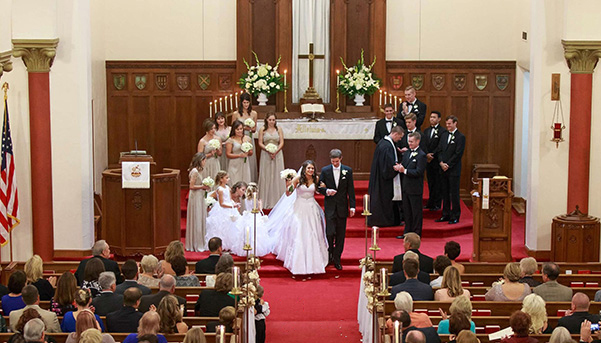 Consider getting married at First Protestant Church.
Give your special day the setting of classic charm, culture, and ceremony paired with contemporary service and reception.
Nestled in the heart of the Texas Hill Country and located in historic downtown New Braunfels, First Protestant Church has been a popular setting for weddings and receptions since 1845. And for good reason. Our exquisite, Gothic style cathedral is a dramatic setting, establishing the once-in-a-lifetime significance of the beautiful ceremony to take place. We welcome couples who wish to celebrate their union in the presence of God. Our grand cathedral ceremony setting is matched by contemporary banquet facilities for your reception. The beautifully landscaped courtyard, with fountains and a reflecting pool, provide a stunning option for an outdoor reception. You will find our experienced staff very knowledgeable, and here to serve you every step of the way as you make plans for your very special day. Our banquet facilities accommodate up to 350 guests. Whether you are looking for a light and airy contemporary wedding or the romantic grandeur of a black-tie ceremony, First Protestant Church has something you will love.
View our Sanctuary and Reception Facilities below.
Wedding Gallery
click to view larger
Contact Us
Contact us online for more information on availability or to arrange a tour, or
contact us at 830.609.7729, ext. 110.
First Protestant Church office hours are
Monday –Thursday: 9:00 am – 4:00 pm, and Friday: 9:00 am – 3:00 pm.
Closed daily from Noon – 1:00pm