Welcome To First Protestant Church of New Braunfels.
Jesus Christ is Lord – and we at First Protestant believe, teach, and confess that Jesus Christ is the one and only Savior of the World!
Whether you, too, have confessed Jesus Christ as your Lord or are "seeking" to learn more, we welcome you and look forward to encouraging you in your pursuit of Jesus Christ!
First Protestant Church Mission
Seeking God, Sharing His love, Serving others
Our mission is the Great Commission of our Lord Jesus Christ who said, "All authority has been given to Me in heaven and on earth.  Go therefore and make disciples of all the nations…" (Matthew 28:18-19b).  We will structure our church to make disciples.
A disciple is someone who has believed in Jesus as his personal Savior, publicly identifies with the church through baptism, and becomes a lifelong learner and apprentice of the Lord Jesus.  A disciple continually seeks God, share's God's love with others (both nonbelievers and believers), and serves others as an expression of that love.
Jesus knew that the way to disciple was to live and teach and minister together in a small group.  Small groups will be our method to disciple people, just as small groups were the method used by Jesus, Paul, Timothy, and the early church fathers.
Disciples who make a difference are not equipped for the sake of equipping alone.  We have a goal in mind. Disciples are equipped for works of service, for deeds of compassion, for meaningful ministry so that we fulfill the Great Commission in our own Jerusalem and points beyond.
First Protestant Church Values
The Authority of Scripture — Cherish the Bible as the inspired, inerrant word of the Lord.
Authentic Holiness — Live righteously, not self-righteously.
Discipleship — Help seekers become believers and believers become ministers.
Evangelism and Missions — Share His story.
Community — Care for each other.
Service — Help your neighbor.
Our goal is to build up and not condemn; to h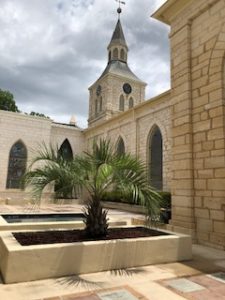 elp others enjoy the forgiveness and love of God through Jesus Christ, rather than face life and eternity apart from God's love.
As a church in the Evangelical Protestant Tradition and the founding church of the Evangelical Association, First Protestant Church affirms:
The Trinitarian name of God – Father, Son, and Holy Spirit.
God has revealed Himself fully and decisively as attested in Holy Scripture. We believe the Bible, consisting of the Old and New Testaments, to be the inspired and authoritative Word of God. The Scriptures are the guide of faith and life.
There is only one way to salvation – through Jesus Christ.
The sanctity of human life at every stage based on our creation in the image of God and our election by God for service in His kingdom.
The Biblical guidelines for human sexuality: marriage as the union of one man and one woman, chastity outside of marriage, lifelong fidelity and holiness in marriage for the sake of the Kingdom.
That the mission of the Church is to spread the good news of the Gospel of salvation in every word and deed. We are sent by Christ into all the world to bring every person into a life of faith, discipleship, and submission to the Lordship of Jesus Christ.
Read our updated constitution and by-laws, which were amended and approved by majority vote at our annual congregational meeting: First Protestant Church Constitution and By-Laws
Office Hours and Location:  172 W. Coll Street, New Braunfels
Monday –Thursday: 9:00 am – 4:00 pm, and Friday: 9:00 am – 3:00 pm.
Closed daily from Noon – 1:00pm

Handicapped Access on Southside entrance of the church, on Coll street with ramp and automatic door, handicapped parking with access to both services at the turn in drive, past the sanctuary.