The Sanctuary Choir
The Sanctuary Choir is a part of the Sunday morning 9:30 a.m. service providing enrichment to the worship at First Protestant by connecting the congregation with God, and inspiring the hearts and souls of our worshipers.
Rehearsal of the Sanctuary Choir is every Wednesday from mid-August to the end of May, 7:00-8:30pm, in the Music Wing (upstairs northwest corner) in the choir room. Participation in the choir is open to all.
The Handbell Choir
The Handbell Choir is a part of the Sunday morning 9:30 am service and provides musical offerings one Sunday each month. Their musical contributions enhance the music ministry at First Protestant by bringing a majestic and inspiring quality to the services, and is devoted to focusing their energies for the highest quality performances.
Rehearsal of the Handbell Choir is every Wednesday from mid-August to the end of May, 6:00-7:00pm., in the Music Wing in the Handbell Rehearsal Room.
Children's Choir
2-5th Grade
Sundays from 11am-11:30am
Location: Choir Room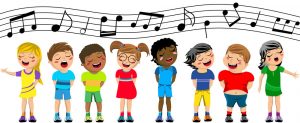 First Protestant is excited to offer a year-round choral experience for our youngest musicians! Rehearsals will take place on Sunday mornings from 11-11:30am, students will be taken to The Well following rehearsal.
Choristers will learn practical vocal and listening skills, concentration and creativity, and will be exposed to diverse music styles in a variety of languages. The children's choir will perform 3-4 times a semester, with special music for some holiday services. Start date will be Sept. 18th.
To register your 2nd-5th grader, contact Kirsten Boyd
Special Music Celebrations by the Sanctuary Choir and the Handbell Choir include:
Maundy Thursday Tenebrae Service
This is a candlelight service held annually the Thursday before Easter. The purpose of this service is to reflect on the Passion of our Lord Jesus Christ — the betrayal, abandonment and agony; and it is left unfinished, because the story isn't over until Easter Sunday. A String Quartet accompanies the choir and special soloists.
Lessons and Carols
This is an annual musical presentation at the first service (9:30am). A professional string and wind ensemble accompanies the choir in stirring and worshipful arrangements of traditional carols which tell of the prophecy and birth of Jesus.
First Protestant Choir Soloists
This group includes students at University music students, long-time members of the church and members new to First Protestant Choir. Soloists are frequently included in the 9:30 am  service.
Music Scholars
This is a program at First Protestant that offers scholarships to pre-professional college/university students. The Music Scholars perform solos at the first service August through May. Our congregation benefits from the special music provided by up and coming college students in their professional pursuit of music. If interested in being considered as a music scholar, contact Kirsten Boyd