We want kids to understand that serving God can be exciting and fun, and for them to see that they can know and claim God's promises for their lives!
"The Springs" at FPC Sunday School
Our elementary-aged (Pre-k4 to 5th) Sunday School classes provide age-appropriate Bible lessons and learning activities that encourage every child's social and spiritual development. Each class is led by a skilled and dedicated teacher who is committed to helping children understand God and His word. We have the "Comal" hour that begins at 9:30am and the "Guadalupe" hour that begins at 10:50am.  We meet in "The Well" located right behind the Jesus Statue on Coll St.
Nursery
A staffed nursery is provided for infants-3 years old in the FPC School area. Our screened and trained staff lead the kids in songs, games, stories and crafts, showing God's love in all they do. They meet in "The Well" located right behind the Jesus Statue on Coll St.
Children's Choir
2-5th Grade
Sundays from 11am-11:30am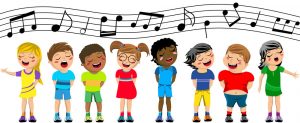 First Protestant is excited to offer a year-round choral experience for our youngest musicians! Rehearsals will take place on Sunday mornings from      11-11:30am.
Choristers will learn practical vocal and listening skills, concentration and creativity, and will be exposed to diverse music styles in a variety of languages. The children's choir will perform 3-4 times a semester, with special music for some holiday services.
To register your 2nd-5th grader, contact Kirsten Boyd:
kirstboyd@gmail.com
Vacation Bible School
VBS is a week-long summer Bible program with an emphasis on learning more about God, His word, worship, and other concepts of faith in Jesus Christ. During VBS, children enjoy classroom time with leaders doing crafts, singing, playing games and a whole lot more — it's the most exciting week of the summer!
Special Events
All through the year, we plan many extra events, some on Sunday morning as part of the kids church, and some on other nights. Some of the Sunday events include the Palm walk, Easter butterfly release and more. All events focus on having fun while building the family unit in their faith and service to God. "Summer Sizzle" allows children to have special times of recreation, worship and Bible Study every August on the shores of nearby Lake Dunlap! Contact Pastor Tyler Reed at tyler@firstprotestant.com or to register, visit the website. Refer to the Year Planner for a complete schedule.
Staff and Volunteers
We are as concerned about your child's safety as you are! All of our children's ministries are staffed by volunteers who have been approved for service after an application and screening process. We take your child's security seriously and have policies in place to ensure that every child will be safe and cared for in all of our children's ministry areas. If you are interested in becoming a children's ministry volunteer, please contact Pastor Tyler Reed at ext. 114  for more information and an application packet or download the Registration Application.
2021 VBS