Advent Wreath Workshop – 9:00 am - 11:45 am
Event Navigation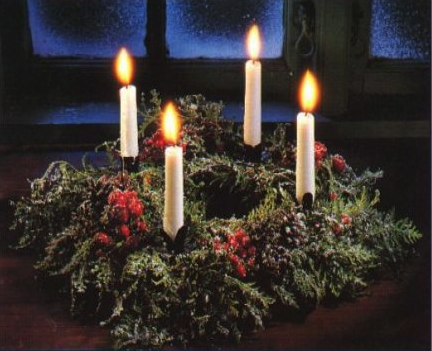 What is Advent and why do Christians celebrate it?
Advent in it's simplest definition means a season of waiting and anticipation. Christians around the world participate in preparing their hearts and minds each year for the coming of our Savior, our Lord, Jesus Christ. An outward symbol of that waiting is represented with a wreath with  candles for the Sundays leading up to the birth of Christ with a center candle representing the day of his birth.
Wreaths are displayed and lit in churches and places of worship but can also be used in Christian homes for families to light, pray and read scripture around as they prepare for our Savior's coming.
This year, First Protestant Church will be holding an Advent Wreath Workshop for all members, their families and friends to take part in. Christmas music, breakfast and supplies to build a real wreath will be provided. This event will be held the first Sunday in Advent, December 3rd in Seele Hall from 9:00am-10:20am. This event is sponsored by Sons and Daughters Children Ministries whose goal and mission is to provide opportunities to strengthen family togetherness and build strong foundations of faith.
If you would like to volunteer, donate supplies or be a part of this event and need more information, please feel free to contact Denise Martin at 830-609-7729 x 26

If you would like to indicate your participation in this event now, please fill out the form below and return it to the church via offering plate or church office.
Download form: Advent Wreath Workshop
Date:

December 3, 2017

Time:

9:00 am - 11:45 am
back to calendar